The Dean of the Faculty of Animal Husbandry and Agriculture, Diponegoro University, Prof. Dr. Ir. Bambang Waluyo Hadi Eko Prasetyo, M.S., M.Agr., IPU. welcomes the activities of the International Guest Lecture Prof. Rangsun Parnpai, Ph.D (School of Biotechnology-Institute of Agricultural Technology, Suranarce University of Technology, Thailand) with a discussion on Cloning Technology in Cattle, (27/4). This event was moderated by Dyah Wulandari, Ph.D (Molecular and Applied Microbiology, Diponegoro University Integrated Laboratory).
Prof. Bambang delivered an international public lecture with the theme of Cloning and Biotechnology Development in Livestock, which aims to increase livestock production where cloning is carried out on livestock after reproduction. Duplication of animal genes is allowed so that cloning becomes regulated, but the ethics of cloning must also be considered.
"We are very happy and support this activity and hope that the International Guest Lecture will become an entry point for more intensive cooperation in the future," he said.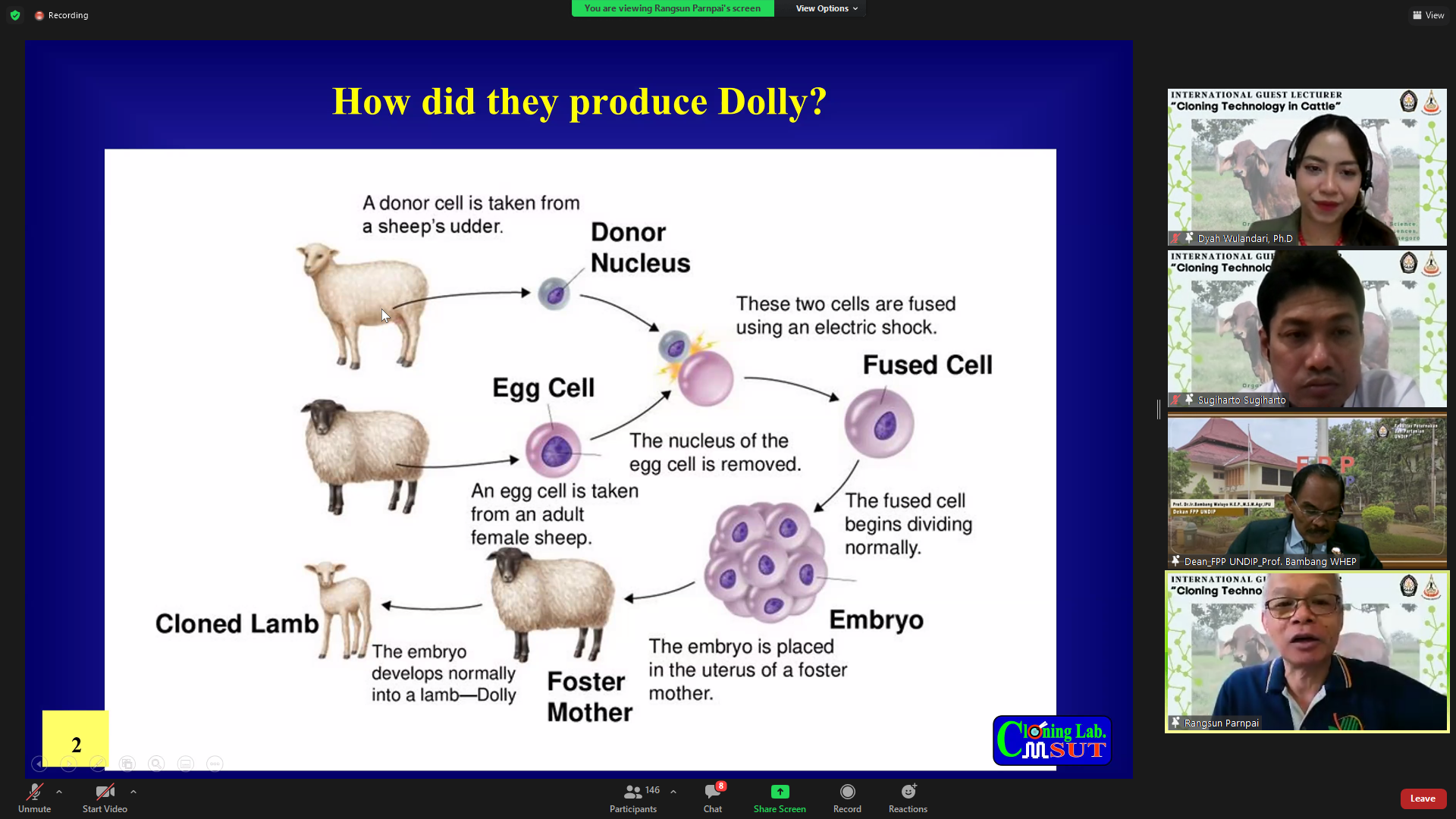 In the material Prof. Rangsun said Dolly Sheep was the first product of cloned animals or the world's first cloned mammal from somatic cell cloning. The donor cells were mammalian cells from a 6 year old ewe.
"To produce Dolly, donor cells are taken from sheep and egg cells are taken from adult ewe, the egg nucleus is removed. Furthermore, these two cells are fused using electrical technology. The fused cells begin to divide normally, then the embryo is placed in the adoptive mother's womb. The embryo develops normally into Dolly's sheep," he explained.
Prof. Rangsun said research related to cloning in several countries prohibits and opposes it. In Thailand, they have done research, but if you want to do cloning research, you have to submit a proposal to the committee first, after getting the acc, you can do research. (Undip Public Relations Lin)
Article Source: SOURCE