SEMARANG, INDONESIA
Faculty of Animal and Agricultural Sciences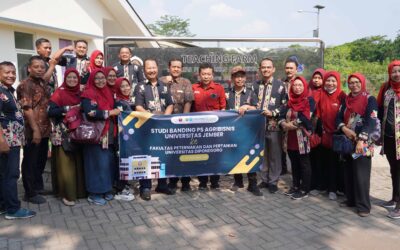 Tuesday (21/11/2023) – 24 Lecturers from the Jember University Agribusiness Study Program visited...
read more
Announcement regarding the 168th Graduation Judiciary of the Faculty of Animal and Agricultural Science, Diponegoro University can be seen in the scanned invitation letter for the Graduation Yudisium below. Please pay close attention to the...
read more
ANNOUNCED FOR PROSPECTIVE GRADUATES WHOSE NAMES ARE LISTED BELOW, TO IMMEDIATELY MANAGE DATA CHANGES TO THE REGISTRY SECTION OF THE RECTORATE, BY DOWNLOADING READY DATA REPAIR FILES ON THE FPP WEB, SIGNATED BY THE DEAN OF FPP. IF THE DATA OF THE...
read more
ANNOUNCED TO ALL PROSPECTIVE GRADUATES PERIOD 168 (OCTOBER 2022) FACULTY OF LIVESTOCK AND AGRICULTURE UNDIP TO TAKE A TOGA LOAN IN SUBAG. ACADEMIC AND STUDENT WITH Bp. TONY KUSWAHYUDI, STARTING ON 19 OCTOBER 2022. BY TAKING ATTENTION TO THE...
read more
Diumumkan untuk seluruh mahasiswa Universitas Diponegoro angkatan 2022 untuk pengambilan foto KTM dan Atribut, bisa diambil di gedung Prof SUdarto SH. Tembalang Semarang. Informasi lebih lanjut pada flyer di bawah ini :
read more
We hereby inform you that the 168th Graduation Ceremony of Diponegoro University will be held offline on November 1-8, 2022 with the number of graduates based on preliminary reports as many as 2575 people. The 168th Graduation Ceremony will be held...
read more
Information
Research & Community
Gallery
FAA UNDIP Activities
INFORMATION
Student Enrollment